FAQs
Jun 12, 2014 21:38:10 GMT -6
Post by Silv on Jun 12, 2014 21:38:10 GMT -6
F.A.Q.s
Q. My app is done. Now what?
A. When applying for a character make sure to read through your app a couple of times to make sure you have caught as many spelling and grammatical errors as possible. We will ask you to correct them in your review.

If you've done all that and think you're ready for a review please pm any of the admins (Aly, Bry, Elena, Kenni or Silv). We'll review your app as quickly as we can, but please be patient. Real life gets in the way sometimes.
Q. What are alters? How do I get one? How do they work?
A. Alters are a means of posting as your character within the boards without having to switch accounts. In order to get an alter please fill out the form in this thread. An admin will inform you once your alter is live. You are able to access it during posting: it will be a dropdown list that will show your character names.


The dropdown looks like this when activated: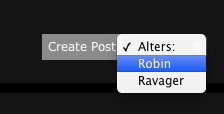 Get one
here!
Q. What is the filebox? How does it work?
A. Whenever a canon is active on the boards for a period of time (either played, or borrowed) their significant activity is logged in the file box. This allows new players to pick up canon characters and know their involvement on the site. If you do not wish to acknowledge any of the previous events, or only some of them, it is perfectly fine. We will only acknowledge as canon what the new player does.
Q. Missions! What are they? Why are they special? How do I submit a mission? And why do I need to?
A. Missions are a special type of thread that is used in our Titan and Villain ranking system. A mission thread is one with a very specific set of circumstances. Basically, it can be summed up as any situation in which the Titans are called. Examples would be a bank robbery, a murder, anything your villainous mind can concoct. Some missions do not have villains, and can be forces of nature, or accidents. Missions are special because they are the only threads that count towards ranking mission points.

To submit an idea for a mission, read and fill out this form here. Once you have the necessary information, please PM it to any of the admins (Aly, Bry, Elena, Kenni, or Silv) and they will put it up for you. Missions go through the admins to make sure that they stay within the format, and also to help guide members on mission creation. Remember that missions are tasks that are assigned by higher ranking Titans. Your character going off without orders from a higher up does not qualify for mission status. Missions will be started by the original submitter on the IC boards.

More information found here.
Q. What are Titan ranks? How do we level up?
A. Titan ranks are an IC ranking system which allows Titan recruits to gain experience through role playing. The rankings are one through five and have various perks that go with each level. For a more detailed explanation read here.
Q. What are Villain ranks? How do we decide threat level? How do we level up?
A. Villain ranks are similar to the Titan ranks, but because the villains are not an organization, is set up slightly differently. Villains come in three threat level types: low, medium, and high. These threat levels are broken up into notoriety ranks, or, how infamous your villain is. Villains can move up both ranks, and threat levels through IC involvement. . For a more detailed explanation read here.
Q. Can I have non DC canons?
A. We prefer originality in our OCs. No you may not make carbon copies of non-DC canons.
Q. Can I be the son of Batman? Not Damian, my super invincible OC?
Q. Can I deviate from the canon of the comics if I play a canon?
A. Since we are a site based on the television series we do deviate from the comic canon. We don't mind deviations so long as you stay true to the character.
Q. Can I use the canon of the comics in my canon?
A. Yes. The television show doesn't give us everything. You are more then welcome to supplement the histories from the show with the comic canon.
Q. What about other Robins and shared mantles? IE. Tim Drake, Cassandra Cain, Atlee, ect.
A. This is going to have to be a case by case basis. Remember that these are the original Teen Titan team members. A lot of Tim's team haven't even started up as heroes yet. Ask an admin.
Q. How much can I swear in a post?
Q. Why are Young Justice characters taking up my OC slots? That's not fair! I want ALL THE OCS!
A. If the Young Justice character you wish to play is not in the Teen Titans show or Teen Titans Go! comic then they cannot be counted as a Teen Titans canon and therefore takes an OC slot.
Q. Do DC canons count as canon?
A. Yes. DC canons count as canon. However, unless they are in the Teen Titans TV show or the Teen Titans Go! comics specifically then they do not count for your bonus canon slot.
Q. Can I join the in-character chat if my character isn't accepted yet?
A. Yes, as the IC chat is non-canon, you may play in there while waiting for your character to be accepted.
Q. Do we have a word count?
A. We do not have a word count, but we ask you post at least a good paragraph. This means at least five sentences. Just make sure that your partners can respond. Don't worry, we'll tell you if we can't reply. ;D

UPDATE LOG
Posted by Silv 6-12
Silv 4-15